AMERICAN TACTICAL SHOTGUN

THIS MODEL SHOT 1000 ROUNDS IN 1 ½ HOURS WITH NO FAILURES
Five shot, pump action 12 gauge shotgun. 18.5 inch barrel. Black synthetic stock and ribbed forend. Cylinder choke. Individually inspected. Covered under American Tactical's warranty and repair service in the United States.


Gauge: 12


Barrel Length: 18.5


Finish: Black


Capacity: 5


Choke: Cylinder


AR-15 sales have been a little sluggish lately so I decided I needed to "MOVE" one.  Here's the deal.  I have 6 more of the 12 gauge American Tactical Pump Shotguns.  This is the same gun I have had that survived the torture test of 1000 rounds in 1.5 hours WITH NO FAILURES.  It features the 18.5" Barrel, Synthetic Stock, Matte Finish, 5-Round Capacity with a 3" Chamber.  Each person purchasing one of these 6 shotguns will have his/her name in the hat for a drawing to win an AMERICAN TACTICAL COMPLETE OMNI AR-15 LOWER RECEIVER (MSRP @ $135.95) featuring a 6 position tele-stock and ready to accept your Mil-Spec AR upper.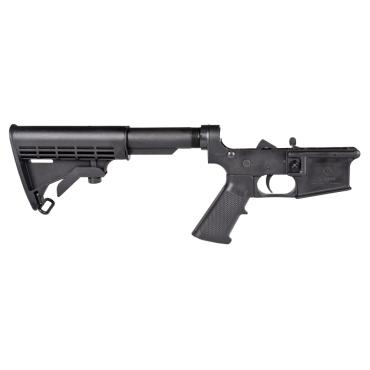 The Shotgun cost is $249.99 just like before.  The first 6 people to purchase one have a 1 in 6 chance to win the AR-15 lower receiver.  I'll throw in a box of Federal Premium LE 12 ga. 00 Buck self defense ammo for the winner!
THIS IS FIRST COME__FIRST ENTER__ONLY 6 NAMES IN THE HAT.
GET YOUR HOME PROTECTED NOW!
The drawing will take place after all 6 are sold.  Need not be present to win, but you must be 21 years old to get the AR-15 Lower!
Do I need more rules???  NO
Thanks, Terry
P.S.  I have several brands of .22 lr ammo in stock. 

Wolf Match Target @ $7.45 per box of 50 and ATI Scorpion at $6.50 per box of 50.
HERE IS SOMETHING FOR YOU TO CONSIDER:
If a transient 
winter storm
 for which we had ample advance warning leads to panic buying, empty store shelves and brawls, then what do you think is going to happen in a worst case scenario?
It'll start just like Atlanta, with people in panic mode looking for food, water and
essential
supplies.  Once the food runs out, so will patience. Chances are that emergency responders will be overwhelmed or they'll be taking care of their own families, so calls for help will go unanswered. 
Government
 will either be 
too slow to respond
 or they 
won't show up
 at all:
"What people have got to know is that they're on their own, literally on their own," he said.
Experts say people should be prepared to look after themselves for at least three days after any major disaster.
But Mr Winter says most people have no plans in place.
"If we turn off power and water, how long will you be able to survive?" he said.
"When we put to people, 'Can you survive for 72 hours without external help?', the reaction is their jaw drops."
Three days, 
maybe less
, as we saw in 
West Virginia
 last month:
Lesson #1: There will be immediate panic
That's when 
the situation goes critical
.  The looting and violence will begin. First they'll target businesses like grocery stores, warehouses, and restaurants. When those are picked clean, they'll go door-to-door.  
Will you be ready? Because they won't be knocking.